If you landed on this page, it's likely you've found yourself in an uncomfortable dissertation writing crunch. A little searching on Google or reddit will reveal you're not alone – some of the top related questions I came across included: Can you write a dissertation in 2 weeks? Can you write a dissertation in 3 months? Or… there's this one: Can you write a dissertation in 2 days?
I guess I'll start with my spoiler alert: No, you most likely cannot write a dissertation in 2 weeks. For most people who complete a dissertation, it's one of the most arduous writing experiences of their lives. However, 2 weeks of dedicated time can result in significant progress. So rather than focus on things beyond your control right now (an approaching deadline, for example), let's focus on what you can do to speed up your writing.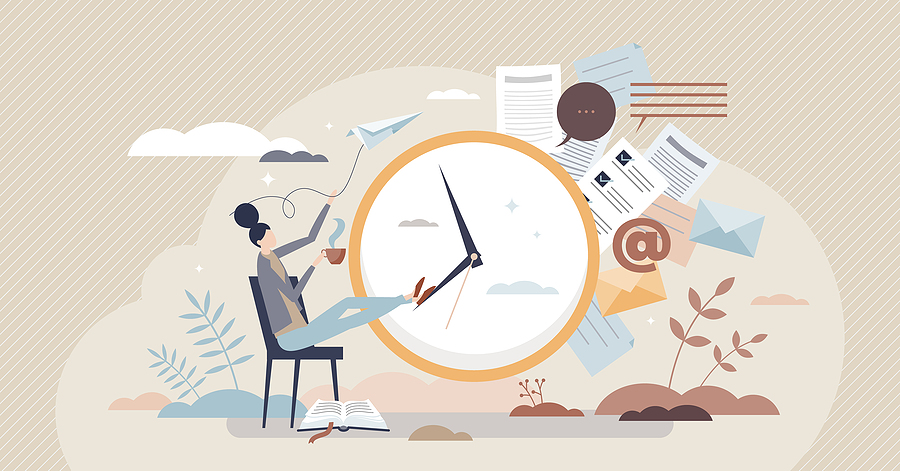 How many words can you write in a day?
The length of a dissertation will vary based on a bunch of factors. For the sake of discussion, let's say the average dissertation is 200 pages (not including references). With about 250 words per page, we'd be looking at approximately 50,000 words, total. While that may seem like a lot, the publishing industry considers 50,000 words to be a short book ?. Rather than fixate on the total number of words, let's figure out how many words you can write in a day.
It make some trial and error to find your writing flow, but aim to write at least 1 page (250 words) per hour. In this way, your writing productivity should be based on the number of hours you work. Some people write best in long, uninterrupted (6-8 hour) periods, while others do better with short, 1-2 hour writing blocks. For Ph.D. candidates with full-time jobs and families to care for, 8 hours of weekly writing is the sweet spot. You could probably do more, but balance and the avoidance of burnout is SO important. Eight hours of writing should result in about 8 pages (2000 words) each week.
Create a schedule
Many Ph.D. candidates struggle with school-work-life balance. Thus, the number of hours you spend writing may vary from one day to the next. For this reason, I recommend creating a writing schedule and setting weekly goals. Maybe you're able to dedicate two hours in the evening, on Tuesday and Thursday, and then four hours on Saturday.
Figure out your writing schedule and then begin setting goals based on the time you're dedicating to the project. Let's say you're working on chapter 1, which is typically around 12-15 pages. If we're going with our 1 page/hour writing speed, you should be able to draft up Chapter 1 in about two weeks, with a dedication of 8 hours per week. Remember that your writing speed for a dissertation is going to be slower because everything you write must be referenced. So when I say "writing speed," what I'm actually referring to is "researching and writing" speed.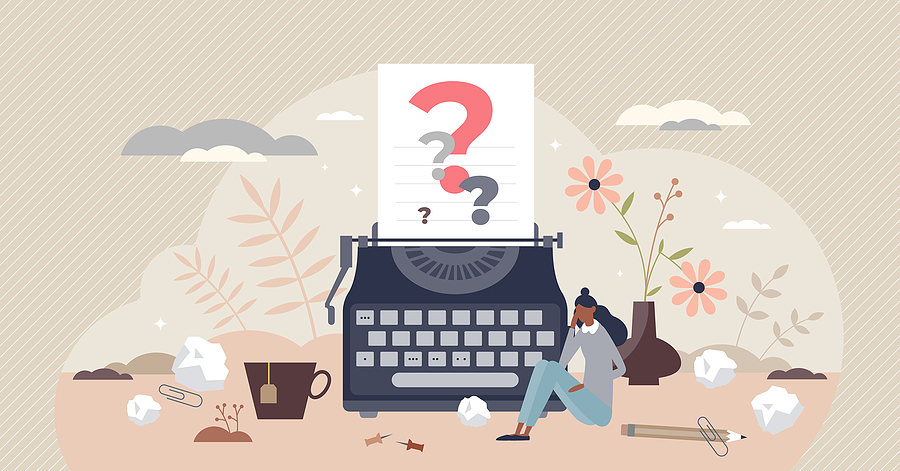 Set mini dissertation writing goals
Now that we've discussed writing speed and schedules, let's talk about creating mini goals to inform the writing process. These goals must be specific and time-based in order to be effective. Let's use the literature review as an example. Rather than say "I'm going to finish my literature review over the summer," you should create a list of specific mini goals. First, create an outline for the literature review. Let's say your outline consists of an introduction, search strategy, and conceptual framework, followed by the actual literature review (arranged into eight main sections). Let's also assume each month is about four weeks long. Looking at big picture, let's divide this work across the three months in your summer term. I created a goal calendar for each month for this example: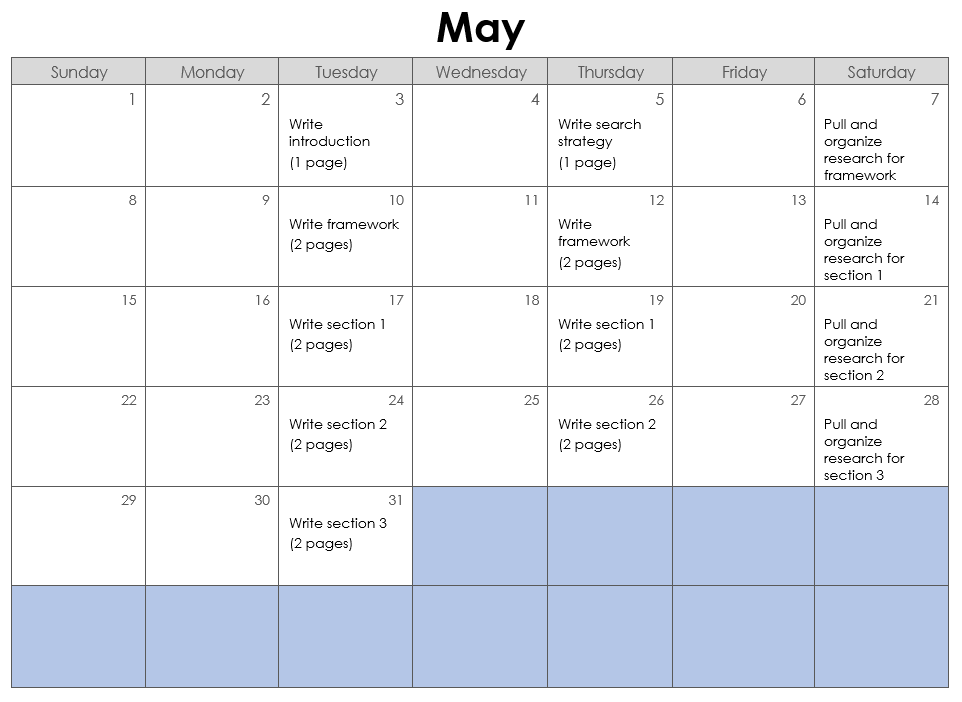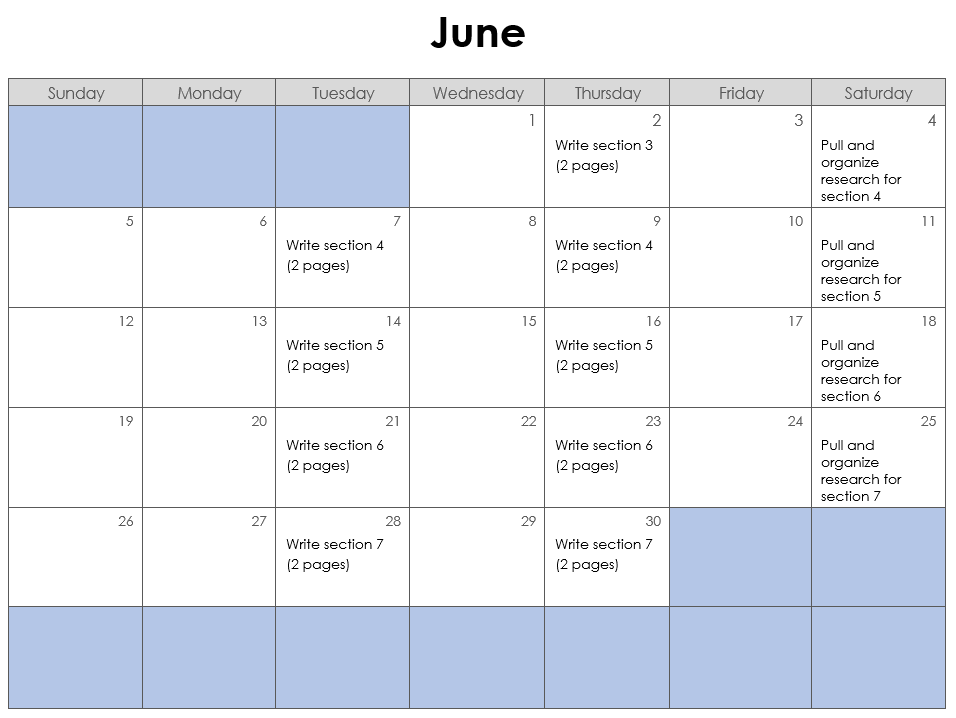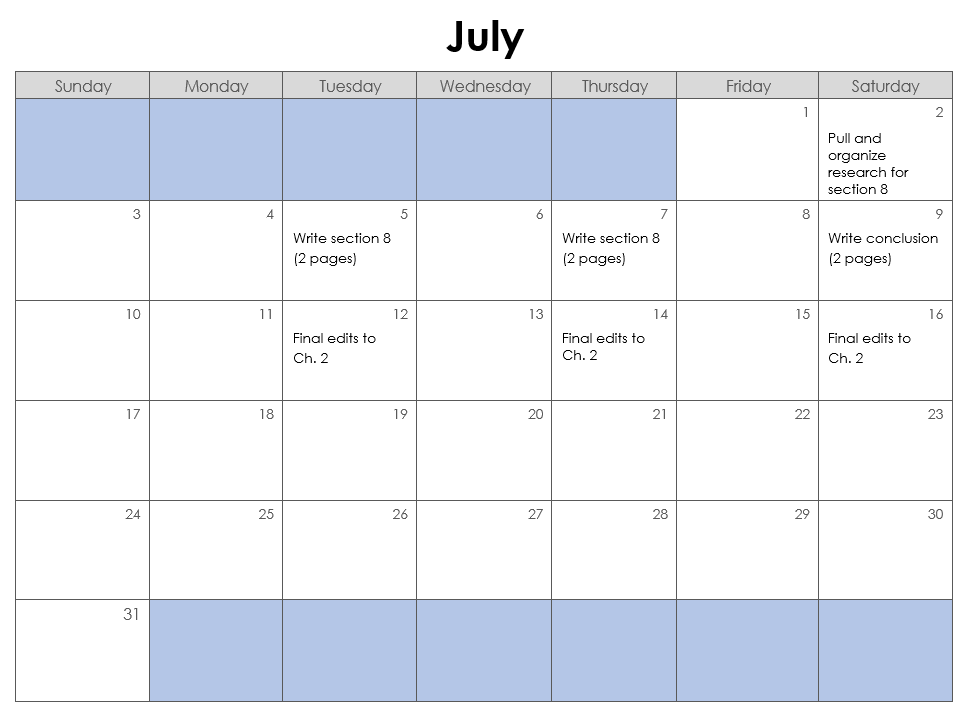 As you can see, I stuck with our example of writing on Tuesdays, Thursdays, and Saturdays. With this schedule, you could research, write, and edit a 40-page literature review in just two and a half months! Check out some specific tips for getting through the literature review, here.
Also consider integrating weekly check-ins with your chair to keep them involved in the project – you'll want them in your corner.
How long does it take to write a five chapter dissertation — realistically?
Okay, all this scheduling and goal-setting is great, but how long does it really take to write an entire dissertation? Once again, there are many variables to consider, but 1 year is a reasonable window for completion (from start to finish!). If you're at the beginning of your journey, look at your big picture goals for completion and then set deadlines for each of the following main benchmarks:
Chapter 1 draft approved
Chapter 2 draft approved
Chapter 3 draft approved
Proposal defense
IRB approval
Data collection
Data analysis
Chapter 4 approved
Chapter 5 approved
Final defense
Publication (!!!)
The keys to speedy dissertation writing
Beyond scheduling and goal-setting, you can speed up your dissertation journey by eliminating time wasters and distractions. Reflect on the things that are your writing kryptonite (smartphone nearby, social media, etc.) and minimize those distractions. You can also speed up your dissertation journey by minimizing your revisions for each chapter. This process will involve revisions, but you can minimize them by making sure your writing is polished before each submission.
Finally – get organized. Beyond your writing schedule, make sure your physical writing environment is organized. Keep your desk clutter free so your writing space doesn't feel chaotic. Also, keep your electronic files organized (have a system for storing and organizing your articles, references, and submissions for each chapter).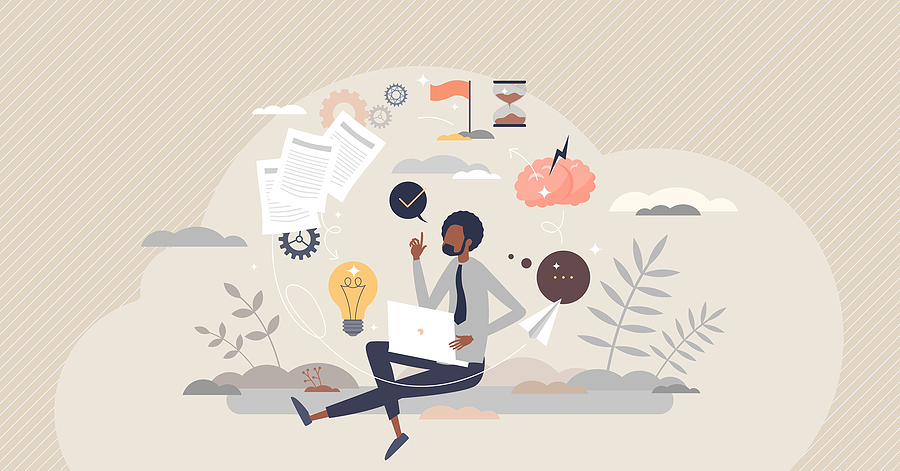 Final word: Why a rush job is a bad idea
Rushing yourself through the dissertation is a bad idea that will most likely result in frustration and may even prolong the process. Be aggressive but realistic about the timeline you create for yourself. If you need to move the finish line a little further out, do it. Us overachievers have a tendency to bite off more than we can chew. That's alright, we're human. It's not worth creating unnecessary stress and agony. Can you write a dissertation in 2 weeks? Probably not. But if you set goals and stay accountable to those goals, you should be able to finish in a year! If you feel stuck, a dissertation coach could help you get the needle moving again.
Happy writing!